What does an Interior Designer do? (select the best answer)
As an Interior Designer, your ultimate goal and objective is to solve a problem for your client and the client's project brief. Rather you are designing a residential interior, a commercial restaurant, a kitchen, a night club or a retail space etc, you as the Interior Designer, is to solve a problem. This is important to remember for beginning students in interior design.
Interior design is a career which involves in? (select the best answer)
Interior design is a process that involves artistic expression and science and technology. It is artistic as interior design works with colors, artworks, styles, texture, shapes, forms and etc. It is science and technology as interior design works with various types of innovative products and creative design and engineering.
What is one of the personal trait that an Interior Designer should possess? (select the best answer)
To be a successful Interior Designer, being able to communicate and work efficiently with your client and project team is one of the most important trait to possess. This is important especially for an Interior Designer as each project can consist of a large group of project members and stakeholders from client group, City Officials, contractors, cost consultants, suppliers to Architects and Engineers etc.
Why is being an Interior Designer so satisfying? (select the best answer)
Interior design is a profession that involves creativity and you can be involved in all types of creative projects from designing graphics, interior spaces, furnitures, floor finishes, lightings, logos, artworks, signages and even houses and buildings and many more. Interior design projects may include restaurants, residential interiors, offices, retails, cars, ships, night clubs, malls, institutions, hospitals etc. etc. Some Interior Designers even design houses and commercial buildings as well. You are not just an Interior Designer, you are a true Designer. Furthermore, unlike many other profession, you also get to operate your own design consulting company anywhere in the world.
What is the main difference between an Interior Designer and an Interior Decorator? (Select the best answer)
Not to worry, you don't need to perform any type of engineering work. As an Interior Designer, your responsibility is more diversified. One of the task that an Interior Designer is responsible for is Building code and basic related engineering review work. All interior space must meet local building and fire codes as this is part of life safety. This is especially true when an Interior Designer is involved in any public/commercial type developments. An Interior Designer is not an Engineer but should understands the basic concepts of building structures, mechanical and electrical systems and knows when require, to engage the appropriate Engineers to do the work.
To become a successful and effective Interior Designer, you need to?
Although all the answer are correct, however, to always have a fresh beginner's mind allows you to see and find opportunity to learn, respect and can open your mind for learning. It also allow you to be humble. One of the positive aspect being good a communicator is being able to establish positive relationships with everyone around you and this is the beginning journey to success. All successful Interior Designer is a good communicator with good interpersonal skills.
Who are the stakeholders in an interior design project?
Stakeholders are all the major players of the project. Therefore the best answer would be "All of the Above". Stakeholders will include the contractors, client groups, investors, bankers, consultants such as the Engineers and Lawyers, Government Officials etc. As the Interior Designer, you must ensure all stakeholders are managed and coordinated properly for the success of the project.
As an Interior Designer, what is one of the advantage of operating your own interior design consulting firm?
The best answer is "To control my destiny". Being able to control your career and destiny, you can progress much further into your career. Controlling your destiny will allow you to flexible hours, the freedom when to work and when to not work, higher income, the types of interior projects you like to work on and even the types of clients you want to have and much more. Once you have control of your destiny, you will not be affected by the status of the economy.
What is one of the main principal of interior design?
A Designer is not a true practicing Artist. An Interior Designer is hired and paid to solve a problem. Rather that problem is a visual problem, a spatial problem or a technical problem etc, it must serve a function and a purpose. Therefore, an Interior Designer will need to solve the problem(s) inorder to serve a function(s).
Define space in interior design?
Space is 3 dimensional. Once you understand that space is 3 dimensional, you will start to think in 3 dimensional. In design theory and in practice, this understanding will reinforce your conceptual thinking and design thinking and help you to solve design problems.
What is the ideal minimum floor to ceiling height for a regular residential apartment or a house inorder to be considered as standard and comfortable to the occupants?
In most City and Country, 8' is the most ideal minimum floor to ceiling height for residential occupancy especially for the sleeping and living areas such as the bedrooms, kitchen and living spaces. However, the basement, bathroom and storage rooms can be slightly lower if required.
If you are the Interior Designer and in your proposed design, a new room is required to be built inside an existing space with a 8' ceiling height, what is the actual clearance required from the floor to the finished ceiling?
This is abit of a tricky question if you are just a beginning interior design student. The best answer is 8'-1". If you starting thinking in 3 dimensional, you can begin to understand this why. A space consist of a finished floor, some walls with finishes and a finished ceiling. A floor to ceiling height is a vertical space and will affects 2 elements of the space and they are the floor and the ceiling. Inorder to have a clearance of 8' ceiling height, you will need to add in the additional floor finish materials and also the ceiling finish materials. Normally, about 0.75" to 1" of additional space is required inorder to accommodate the extra materials. The thicker the floor and ceiling finish materials, the more space is required to be added to the 8'. This is a good example for you to start thinking and understand 3 dimensional thinking.
As the project's Interior Designer, you visit the project job site during construction and noticed an interior glass-block wall was not built to City's code/standards and design as shown on the approved drawings. You as the project leader and the Designer in-charge of the project, what are you gong to do?
As the Project Interior Designer in-charge of the project, you need to take charge and make decisions and some times hard and swift decisions on site. You are on site and have already reviewed the drawings and have confirmed that the glass-block wall was not built to code/standards and design as per the drawing which was already been approved by the client group, local authorities and any other stakeholders. The key here is not meeting the "Code/Standards". Whenever construction that don't meet the "Code/Standards", it is not acceptable and may cause other issues such as safety issue and etc.
For any given interior design project, what is the first task an Interior Designer must do before the design process can be started?
A design brief must be reviewed before any other task can happen. Normally, a design brief is created by the client but sometime it can be created by the design team in consultation with the client. The design brief should include the outline of the delivables, scope of the project, timeline, budget, scope of work, function and aesthetics requirements, project statement and any requirements that is related to the project.
Why is having project management skills are important to an Interior Designer?
Although all 4 answers are the result of having good project management skills, but the best answer is to reduce potential project risks. Every interior design project have risks rather it is during the design process, costing or during construction. If projects are carefully managed from start to construction completion, any potential risk can be reduced resulting in the overall success of the project. All Interior Designers must be trained in project management.
You are about to start work on a new restaurant interior design project, when should you be visiting the project site or the space?
You should always review the provided documents and client's requirements or design brief first prior to visiting the job site. Once you have some understanding of the requirements and space via the existing documentation and drawing, visiting the job site will be more useful as you can identify the problem areas. It is also beneficial to do some research work on the site prior to the visit. Remember, the job site location can be far away and you will need to get as much as you can out of your initial visit prior to the start of the design work.
In a typical interior design project, the core design team may consist of members including?
An interior design project may consist of the following members as apart of the design team and they include: Project team leader, project designer, technicians, project manager, spec writer and consultants including Architects and Engineers. Contractors and the client are normally not apart of the core design team.
Pretest - Require for Level 1 Courses
Hope this pretest #1 have provided you some insight into the Interior Design profession. Don't worry if you did not selected the best answers. All the answers you have selected are correct. If your answer was wrong, you just did not selected the best answer.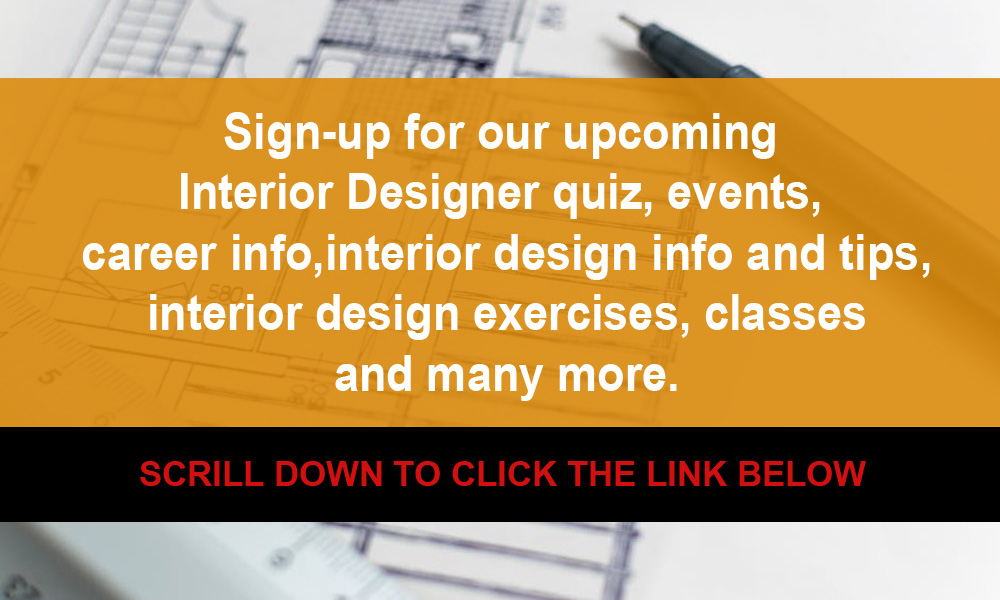 As you go through our interior design courses and training, there will be more small and larger quiz for you to try out. Best of luck in your interior design training journey. Check back soon, we will be having more pretest quiz soon. They are great for learning more about interior design! To learn more about interior design quiz, events, interior design tips and info, career info, updates, articles and classes or learn how to start your own interior design business and many more by going to our sign-up page.
Click here to sign-up and get notified for our interior design quiz and updates here